Für HR-Manager, die alles im Griff haben.
Tue, 06 Nov 2018 14:20:26 +0100
Erstmals beim Leipziger Personalforum dabei ist in diesem Jahr die Personio GmbH. Das 2015 gegründete Startup aus München hat mittlerweile mehr als 120 Mitarbeiter und sich viel vorgenommen: Das Team möchte die führende HR Management- und Recruiting-Plattform für kleine und mittelständische Unternehmen in Europa aufbauen. Dafür hat Personio eine gleichnamige Software für Personalverwaltung und Bewerbermanagement entwickelt, die Unternehmen mit einer Größe von 10 bis 1000 Mitarbeitern in ihrer Personalarbeit unterstützt. Wir sagen: Herzlich willkommen! – und freuen uns, allen Teilnehmern und Freunden des Leipziger Personalforums im Namen des Personio-Teams ein ganz besonderes Angebot machen zu können:
Besuchen Sie das Personio-Team auf dem 10. Leipziger Personalforum oder wenden Sie sich bis 30.11.2018 an partner@personio.de, um Informationen, eine kostenlose Produktdemo oder einen kostenlosen Testzugang zu erhalten. Mit dem Code "PersonalforumLeipzig" erhalten Sie bei Abschluss eines Jahresvertrags zwei Freimonate und 50% auf die Setup Gebühr.
Wir sagen herzlich Dank für die Unterstützung des Warm-up-Treffens zum Leipziger Personalforum am 7.11.2018!
Mehr zum Unternehmen: www.personio.de
---
Other current blog posts of the organization
Leipziger Personalforum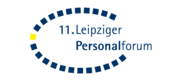 Auf dem Leipziger Personalforum, das am 7. November 2019 zum 11. Mal stattfindet, werden neue Entwicklungen, Ideen und Praxisbeispiele für eine erfolgreiche Personalarbeit vorgestellt und Führungskräfte mittelständischer Unternehmen und Personalexperten zum Erfahrungsaustausch zusammengebracht. Das Leipziger Personalforum ist eine gemeinsame Veranstaltung der IHK zu Leipzig und dem Unternehmerverband Sachsen in Zusammenarbeit mit der ZAW Leipzig GmbH und der Agentur gala royale – special events (Konzeption und Projektkoordination).