Webinar am 14.11. – Nie wieder Bewerber verlieren
Tue, 05 Nov 2019 09:37:38 +0100
"Nie wieder Bewerber verlieren – Fachkräftemangel durch Digitalisierung im HR entgegenwirken" ist Thema eines 30-minütigen Webinars, das am Donnerstag, den 14.11.2019, um 10 Uhr stattfindet.
Weshalb sagen Bewerber den Unternehmen ab? Weshalb sagen Unternehmen den Bewerbern ab? Welche Faktoren beeinflussen den Einstellungserfolg? Was machen große Unternehmen besser als kleine Unternehmen hinsichtlich des Bewerberprozesses? – Dies sind einige der Fragen, die im Webinar beantwortet werden.
In dem Webinar von Personio gehen wir den Ursachen auf den Grund, weshalb Unternehmen Bewerber verlieren, geben Lösungsvorschläge und stellen Best Practice-Beispiele vor, was Unternehmen dagegen tun können. Die Teilnahme am Webinar ist kostenfrei!
Personio ist eine ganzheitliche HR-Software für kleine und mittelständische Unternehmen mit bis zu 2.000 Mitarbeitern. Das Start-up wurde 2015 in München gegründet und hat es sich zum Ziel gesetzt, Personalprozesse schneller, übersichtlicher und effizienter zu machen. So haben HR Manager wieder Zeit, sich auf das wertvollste Gut erfolgreicher Unternehmen zu konzentrieren: die Mitarbeiter. Zu diesem Zweck entwickelt Personio eine All-in-One Software-Lösung für das Recruiting über die Personalverwaltung bis hin zur Personalentwicklung. Rund 1.800 Kunden in über 40 Ländern setzen Personio bereits erfolgreich ein.
Personio ist Partner des 11. Leipziger Personalforums. Lernen Sie das HR-Betriebssystem am 7.11.2019 in Leipzig kennen.
---
Other current blog posts of the organization
Leipziger Personalforum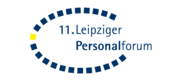 Auf dem Leipziger Personalforum, das am 7. November 2019 zum 11. Mal stattfindet, werden neue Entwicklungen, Ideen und Praxisbeispiele für eine erfolgreiche Personalarbeit vorgestellt und Führungskräfte mittelständischer Unternehmen und Personalexperten zum Erfahrungsaustausch zusammengebracht. Das Leipziger Personalforum ist eine gemeinsame Veranstaltung der IHK zu Leipzig und dem Unternehmerverband Sachsen in Zusammenarbeit mit der ZAW Leipzig GmbH und der Agentur gala royale – special events (Konzeption und Projektkoordination).