Further education
Leipzig
Nebenberuflicher Bachelor-Studiengang Wirtschaftsrecht (LL.B.) in Leipzig
Leipzig

Please apply here on "OFFICEmitte.de" with the "Apply Now" link/button at the top right.

Studieren Sie neben Ihrem Beruf an einer der größten Hochschulen Europas.
Sie erwartet ein praxisnahes Studium an einer akkreditierten und international anerkannten Hochschule, die spezialisiert ist auf Berufstätige. 
Sie studieren im Herzen von Leipzig in kleinen Gruppen und mit persönlicher Betreuung, ohne Ihre Berufstätigkeit oder Ausbildung aufgeben zu müssen.
Wirtschaftswissenschaftler mit juristischer Denkweise gesucht: Der berufsbegleitende Bachelor-Studiengang "Wirtschaftsrecht" vermittelt sowohl betriebswirtschaftliches Wissen, als auch wesentliches Know-how in unternehmensrelevanten Rechtsdisziplinen. Ob in arbeitsrechtlichen Fragen im Personalwesen, bei der Mitgestaltung von Verträgen oder beim Thema Compliance – Wirtschaftsjuristen sind gefragt.
Dauer: 7 Semester
Semesterferien: August und Mitte bis Ende Februar
ECTS: 180
Zulassungsvoraussetzungen:
*Allgemeine Hochschulreife (Abitur), Fachhochschulreife oder sonstige als gleichwertig anerkannte Vorbildung
*Da die Studiengänge für Berufstätige konzipiert sind, wird eine Berufstätigkeit empfohlen, ist aber nicht zwingend erforderlich
Studienbeginn: September 2023
Anmeldeschluss: 6 Wochen vor Semesterbeginn (ggf. ist auch eine kurzfristigere Anmeldung möglich)
Studiengebühren:
Studiengebühr: 42 Monatsraten à 345 Euro
Prüfungsgebühr: 500 Euro (einmalig zum Ende des Studiums)
Gesamtkosten: 14.990 Euro
Ihren persönlichen Beratungstermin (in Präsenz oder virtuell) vereinbaren Sie bitte mit unseren Studienberaterinnen: studienberatung.leipzig@fom.de
Die Anmeldung zum Studium erfolgt online: https://anmeldung.fom.de
Bachelor
, Wirtschaft, Recht, FOM, Leipzig, Hochschule, Berufsbegleitend, Wirtschaftsrecht, Studium, Arbeitsrecht, OFFICEmitte.de, Empfehlungsbund
This Internship resp. apprenticeship as 'Nebenberuflicher Bachelor-Studiengang Wirtschaftsrecht (LL.B.)' is vacant in following addresses: 04109 Leipzig in Sachsen.
Brief profile of FOM Hochschule für Oekonomie & Management gemeinnützige GmbH, Hochschulstudienzentrum Leipzig
Leipzig gilt als Wiege der deutschen Betriebswirtschaftslehre. In diesem traditionsreichen Umfeld stellt die FOM mit ihrem berufs- und ausbildungsbegleitenden Konzept eine moderne Alternative der Weiterbildung dar.

Leipzig ist eines der jüngsten Hochschulstudienzentren der FOM. Es wurde 2008 gegründet und bietet seinen Studierenden sehr gute Lernbedingungen: Sie kommen in kleinen Gruppen zusammen und profitieren optimal vom Know-how ihrer Dozenten sowie den Erfahrungen ihrer Kommilitonen.
Das wirtschaftswissenschaftliche Studium an der FOM führt Sie zum gefragten Hochschulabschluss und bereitet Sie gezielt auf die akademischen Anforderungen in Ihrem Beruf sowie ganz konkret auf Management- oder Führungsaufgaben vor. Aufgrund des berufsbegleitenden Konzepts der FOM können auch Berufstätige und Auszubildende dieses Studium absolvieren, ohne ihre berufliche Tätigkeit zu unterbrechen. Studiert wird abends und am Wochenende.

Folgende Studiengänge werden in Leipzig 2023 angeboten:
Bachelor of Arts (B.A.)

Business Administration

Management & Digitalisierung

Bachelor of Science (B.Sc.)

Betriebswirtschaft & Wirtschaftspsychologie

Wirtschaftsinformatik - Business Information Systems

Primärmedizinisches Versorgungs- und Praxismanagement

Bachelor of Laws (LL.B.)
Master of Science (M.Sc.)

Business Consulting & Digital Management

Finance & Accounting

Human Resource Management

Sales Management

Wirtschaftspsychologie

Master of Arts (M.A.)

Recht & Management

Wirtschaft & Management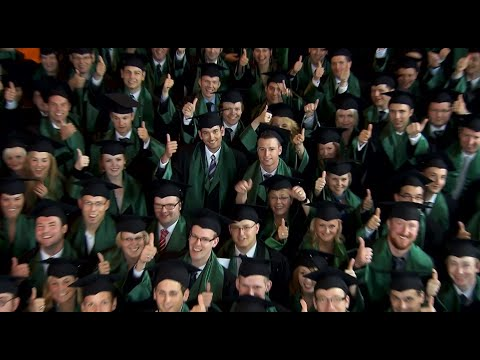 Publication date: 18-01-2023