Professional
Remote
Part-time possible
Flexible hours
up to 30 days of vacation
Projektmanager*in (m/w/d) im Home-Office
Erfurt

Please apply here on "OFFICEmitte.de" with the "Apply Now" link/button at the top right.

Das sind unsere Aufgaben und Ihre Perspektive:
Sie stecken mit unseren Kunden die inhaltlichen Schwerpunkte der Software-Entwicklungsprojekte ab
Sie haben die Projekt-Roadmap im Blick und reagieren flexibel auf technisch wechselnde Herausforderungen
Sie steuern die Software-Projekte auch wirtschaftlich: Sie kennen die Angebotsdetails und überblicken die Aufwände – egal ob es ums Software-Testing, die Entwicklung oder das Deployment geht
Unsere Life-Work-Benefits:
30 Tage Urlaub mit Sparoption
2 Wochen Workation
Getränke-Flat
Fitness-Angebot
Weiterbildungen
Gleitzeit & Homeoffice
betriebliche Altersvorsorge
Feedback Gespräche
Events & Incentives
Dazu bieten wir:
ein attraktives Gehalt und einen unbefristeten Arbeitsvertrag in Vollzeit
dauerhafte Preisnachlässe bei namenhaften Anbietern
einen kostenfreien Firmenparkplatz
Arbeiten und Kommunizieren auf Augenhöhe
entspannte und kollegiale Arbeitsatmosphäre, vieles mehr
Um bei uns richtig durchzustarten, sollten Sie Folgendes mitbringen:
Mindestens drei Jahre nachweisbare Erfahrung als Projektmanager im Bereich Software Development sowie betriebswirtschaftliche Grundkenntnisse
Kenntnisse in der Abfallwirtschaft von Vorteil
eine offene Persönlichkeit und starke Kommunikation
Organisationstalent und analytische Fähigkeiten - Sie schaffen klare Strukturen und sind in der Lage, gezielte Analysen zu erstellen
Leistungsbereitschaft – Sie sind bereit, die extra Meile zu gehen, um den Projekterfolg zu gewährleisten und verfügen über hohes Verantwortungsbewusstsein
Grundkenntnisse in der Softwareentwicklung und Kenntnisse im Umgang mit MS Project oder vergleichbarem Programm als Arbeitsinstrument von Vorteil
Verhandlungssicheres Deutsch und Führerschein Klasse B
Die Q-SOFT GmbH ist eines der führenden Systemhäuser in Thüringen. Wir planen und errichten komplexe IT-Infrastrukturen. Im Bereich Softwareentwicklung sind wir eines der richtungsweisenden Unternehmen der deutschen Entsorgungsbranche.
Wie lernen wir uns kennen?
Senden Sie uns Ihre Bewerbung an bewerbung@q-soft.de
Projektmanager, Softwaretester, Projektmanagement, Software, Softwareentwicklung, Anforderungsmanagement, Servicemanager, MS Project, Software-Test, Test, OFFICEmitte.de, Empfehlungsbund
Open to applicants from the following countries for full remote employment:
Germany
Brief profile of Q-SOFT GmbH
Die Q-SOFT steht für Innovation, Fortschritt und Qualität. Das Alleinstellungsmerkmal, für jeden Kunden individuelle Lösungen zu finden und kreieren zu können, ist das Fundament für das akribische, zuverlässige Arbeiten all unserer Mitarbeiter.
Von Peter Volkmar und Uwe Sengteller 1990 gegründet, sind wir nun seit mehr als 30 Jahren eines der führenden Unternehmen der IT- und Software-Branche in Mitteldeutschland. Unser Experten-Team kann auf einen umfassenden Erfahrungsschatz zurückgreifen und entwickelt für kommunale Entsorgungsunternehmen, maßgeschneiderte Lösungen, die sowohl einzelne Module als auch All-In-One-Pakete beinhalten.
Als herstellerneutraler IT-Dienstleister trägt Q-SOFT durch die Beratung, Implementierung bis hin zum 24/7- Support für den Erfolg der Projekte unserer Kunden bei. Unsere Mission: Kerngeschäftsprozesse optimieren durch den gezielten Einsatz moderner IT. Dabei verfolgen wir eine klare Philosophie: Wir verbinden technologische Kompetenz mit ausgeprägtem fachlichen und betriebswirtschaftlichen Know-how.
Unsere Produkte, unsere Lösungen und unsere Dienstleistungen sind auf Ressourcenschonung, Energieeffizienz und Umweltfreundlichkeit ausgelegt, darauf bestehen wir.
WIR stehen für ein modernes Unternehmen, das technologische Kompetenz mit ausgeprägtem fachlichen und betriebswirtschaftlichen Know-how verbindet.
lösungsorientierte Hands-on-Mentalität
Teamgeist
ausgeprägte analytische Fähigkeiten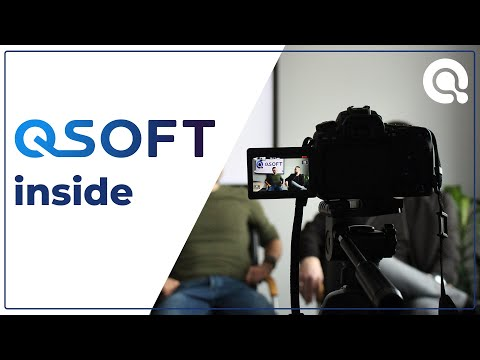 Spheres of competence
apprenticeshiptraineecostumerconsultingReceptionmarketingEinkaufstudiessalesprojectmanagementhead ofconsultingAccounting
Job

Professional • Erfurt (Hybrid) • Flexible hours • up to 30 days of vacation
8 days ago
Traineeships and apprenticeships

Apprenticeship • Erfurt (Hybrid) • Flexible hours • up to 30 days of vacation
5 days ago

Working Student • Erfurt (Hybrid) • Part-time • Flexible hours
5 days ago

Working Student • Erfurt (Hybrid) • Part-time • Flexible hours
5 days ago
Publication date: 30-01-2023