forcont goes BA-Studium
Thu, 25 Jul 2019 08:42:51 +0200
Die Förderung des Nachwuchses ist uns wichtig. Daher haben wir stets 4 bis 8 Werkstudenten sowie Praktikanten an Bord. Um noch weiter in die Ausbildung der Fachkräfte von morgen zu investieren, arbeiten wir jetzt als Praxispartner mit der staatlichen Berufsakademie Sachsen zusammen. Interessierte können sich ab sofort bei uns für ein Duales Informatik bewerben. Mehr dazu erfahren Sie in unserem Blog.
---
Other current blog posts of the organization
forcont business technology gmbh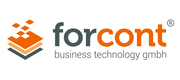 forcont ist ein modernes und hochprofessionelles Softwarehaus. Unser Ziel ist es, einer der führenden SaaS-Anbieter für Enterprise Content Management in Europa zu werden. Bereits heute nutzen mehrere tausend Business-User unsere Cloud-Services. Für unsere Kunden arbeiten wir täglich daran, unsere Produkte und Dienstleistungen zu verbessern, damit geschäftsrelevante Daten und Dokumente zu jedem Zeitpunkt, an jedem Ort und auf jedem beliebigen Endgerät zur Verfügung stehen können. Für diese Arbeit suchen wir Mitarbeiter, die so wie wir bestrebt sind, den Markt anzuführen - mit kreativen Ideen, neuesten Technologien und einem Höchstmaß an Qualität.