Video-Rückblick auf das Warm-up-Treffen zum 11. Leipziger Personalforum
Mon, 25 Nov 2019 16:57:41 +0100
Was im vergangenen Jahr anlässlich der Jubiläumsveranstaltung seinen Auftakt fand, wurde in diesem Jahr fortgesetzt: Das Warm-up-Treffen zum Leipziger Personalforum. Am Vorabend trafen sich in den kreativ-inspirierenden Räumen von design2sense Aussteller, Teilnehmer, Partner und Referenten des Leipziger Personalforums, um sich gemeinsam auf den bevorstehenden Konferenztag einzustimmen.
In den Räumen der ehemaligen Hornschen Likörfabrik in Leipzig-Gohlis fühlten sich alle Gäste sofort wohl und kamen schnell und rege miteinander ins Gespräch. Hier gibt es den Video-Rückblick auf das Warm-up-Treffen am 6. November 2019. Herzlichen Dank an alle, die sich als Netzwerker eingebracht haben. Und ganz besonders herzlichen Dank an design2sense für die Gastfreundschaft! Wir kommen im nächsten Jahr gern wieder!
---
Other current blog posts of the organization
Leipziger Personalforum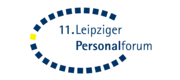 Auf dem Leipziger Personalforum, das am 7. November 2019 zum 11. Mal stattfindet, werden neue Entwicklungen, Ideen und Praxisbeispiele für eine erfolgreiche Personalarbeit vorgestellt und Führungskräfte mittelständischer Unternehmen und Personalexperten zum Erfahrungsaustausch zusammengebracht. Das Leipziger Personalforum ist eine gemeinsame Veranstaltung der IHK zu Leipzig und dem Unternehmerverband Sachsen in Zusammenarbeit mit der ZAW Leipzig GmbH und der Agentur gala royale – special events (Konzeption und Projektkoordination).