Homeoffice ist Vertrauenssache! Kommt nun die Homeoffice-Pflicht?
Wed, 13 Jan 2021 11:44:24 +0100
---
Other current blog posts of the organization
familienfreund KG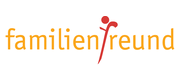 Die familienfreund KG versteht sich seit der Gründung im Mai 2006 als zentraler Ansprechpartner für alle Fragen der Mitarbeitenden und deren Angehörigen. Als Serviceunternehmen für die Vereinbarkeit von Beruf und Familie ist die familienfreund KG gern verlängerte Werkbank der Personalabteilung und Geschäftsleitung. Neben der Neuentwicklung und Umsetzung von mitarbeiterunterstützenden Vorhaben und Angeboten bietet das Spezialistenteam weitere Leistungen zur Unterstützung der Mitarbeiterfreundlichkeit und damit auch zur Mitarbeiterbindung.