Online-Workshop "Remote Work" am 25.3.
Wed, 24 Mar 2021 19:28:47 +0100
Das letzte Jahr hat eindrücklich gezeigt, was wir erreichen können, wenn wir zusammen arbeiten. Dabei haben sich die Formen dieser Zusammenarbeit stark verändert. Wir haben vieles ausprobiert, vieles verworfen und einiges hat sich bewährt. Wir wollen in unserem Workshop am 25. März einen positiven Blick darauf werfen, welche Vorteile das neue Arbeiten den Unternehmen und den Teams gebracht hat, um anschließend von Euch zu lernen, wie Ihr Eure Hindernisse überwunden habt. Erst in kleinen Gruppen und anschließend transparent für alle.
Den Impulsvortrag hält Martin Mascheski von norwin, der Workshop ist von 16.30 Uhr bis 18.00 Uhr via zoom geplant. Anschließend setzen wir das Netzwerken und die Gespräche in einer virtuellen Bar fort.
Wir freuen uns sehr auf diese Möglichkeit, Teilnehmer, Gäste und Interessenten der "Netzwerktreffen PERSONAL" im Vorfeld des Leipziger Personalforums wiederzusehen. Die Details zum Ablauf und zur Veranstaltung gibt es hier: ONLINE-Workshop "Virtuelle Teamarbeit erfolgreich gestalten"
---
Other current blog posts of the organization
Leipziger Personalforum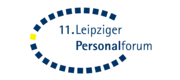 Auf dem Leipziger Personalforum, das am 7. November 2019 zum 11. Mal stattfindet, werden neue Entwicklungen, Ideen und Praxisbeispiele für eine erfolgreiche Personalarbeit vorgestellt und Führungskräfte mittelständischer Unternehmen und Personalexperten zum Erfahrungsaustausch zusammengebracht. Das Leipziger Personalforum ist eine gemeinsame Veranstaltung der IHK zu Leipzig und dem Unternehmerverband Sachsen in Zusammenarbeit mit der ZAW Leipzig GmbH und der Agentur gala royale – special events (Konzeption und Projektkoordination).