13. Leipziger Personalforum – Ein Rückblick in Bildern.
Tue, 06 Dec 2022 14:10:28 +0100
Fast einen Monat ist es nun her, daß wir uns endlich wieder zum Leipziger Personalforum treffen konnten. Herzlich Dank an alle Referenten, Teilnehmer, Partner und Aussteller. Hier gibt es den Rückblick in Bildern. Und schon zum Vormerken:
Am 9. November 2023 findet das 14. Leipziger Personalforum statt!
Das Leipziger Personalforum ist eine Veranstaltung der Agentur gala royale – special events und wird von der IHK zu Leipzig, dem Unternehmerverband Sachsen sowie der ZAW Leipzig GmbH unterstützt.
Bilder: Claudia Koslowski
Auch in diesem Jahr gab es am Vorabend des Leipziger Personalforums ein WarmUp-Treffen in kleiner Runde. Den Rückblick darauf finden Sie hier: Link Rückblick WarmUp-Treffen
Link Download Präsentationen und Vorträge (passwortgeschützt)
Sie wollen am 14. Leipziger Personalforum teilnehmen? Als Gast, als Aussteller oder Vortragspartner? Sie interessieren sich für die Netzwerktreffen Personal oder möchten Termine im HR-Terminkalender veröffentlichen? So erreichen Sie mich:
---
Other current blog posts of the organization
Leipziger Personalforum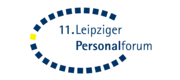 Auf dem Leipziger Personalforum, das am 7. November 2019 zum 11. Mal stattfindet, werden neue Entwicklungen, Ideen und Praxisbeispiele für eine erfolgreiche Personalarbeit vorgestellt und Führungskräfte mittelständischer Unternehmen und Personalexperten zum Erfahrungsaustausch zusammengebracht. Das Leipziger Personalforum ist eine gemeinsame Veranstaltung der IHK zu Leipzig und dem Unternehmerverband Sachsen in Zusammenarbeit mit der ZAW Leipzig GmbH und der Agentur gala royale – special events (Konzeption und Projektkoordination).